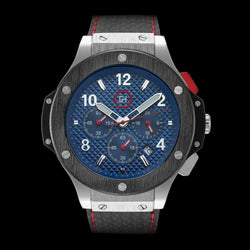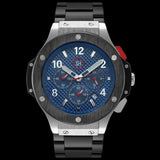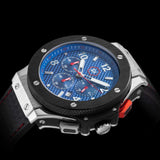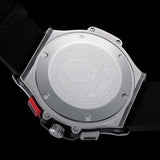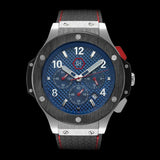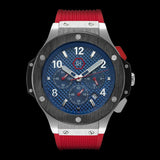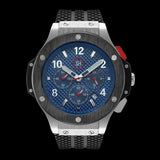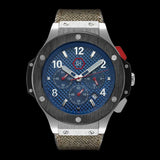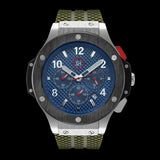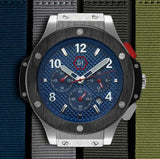 DESCRIPTION

DETAILS

SPECS

LIFETIME WARRANTY
Stare down the barrel. Take a breath, hold it, and pull the trigger. You're in control. What comes of the target? Certainty… 
Nothing is bulletproof when it's in your scope. Hit every mark on your schedule with precision when you're wearing the Sharpshooter. 
The Sharpshooter is a watch for men of action. When you check the time, it's like peering through the scope of a rifle with its crosshairs aimed at a clear blue sky. With a durable black and silver steel frame, this unique timepiece echoes the smooth exterior of your favorite firearm. 
This may just be our boldest watch yet, with every signature Gear'd Hardware color wrapped into one amazing design. Why pick a color when you can have them all? Matching accessories with your daily style has never been easier! Wrap the Sharpshooter around your wrist and carpe diem the f*ck out of that day.
DIAL DIAMETER
BAND WIDTH
BAND MATERIAL
CASE MATERIAL
GLASS
WATER RESISTANT
ENGINE
MOVEMENT
DIAL DETAILS
FEATURES
24-HOUR - 2ND MOVEMENT

TIME, DATE & DAY

SECONDS / MINUTES / HOURS STOPWATCH
OUR PROMISE

It is our mission to make best quality watches possible. We want our entire Gear'd Head community to be able to share that mutual appreciation for high quality and reasonably priced products.

That is why every single Gear'd Hardware product comes with a no-hassle, no-rhetoric lifetime warranty guarantee.
When you spend your hard-earned money on our products, you can do so with confidence knowing that your gear will always be fully-functional and defect-free. You can also rest assured that we will do everything in our power to keep your product in use and out of a landfill.

THE GUARANTEE
If any part of your Gear'd Hardware product becomes non-functioning or defective, we will repair or replace it with a fully-functioning item in the same or better condition.

Note the "non-functioning or defective" part. This means that the warranty does not cover cosmetic wear that does not affect the safety or function of your product. In our opinion, a little scratch or knick here and there is nothing more than bragging rights that you've been having some fun with your gear. If something breaks due to manufacturer defect under normal use, don't worry one bit. We're behind you all the way.
Quality and workmanship is awesome!
The watch's craftsmanship shows. It is large, masculine, weighty with a lot of attention to detail. I collect high-end watches and this one compares in quality features of the high-end watch market. I have only had the watches for 24 hours and love every aspect of the watch...the perfect compliment when on a motorcycle, casual or when in the office.