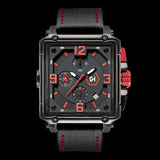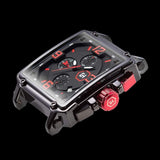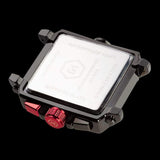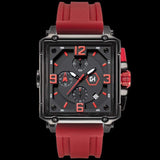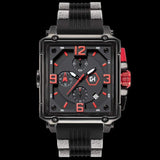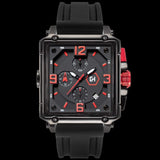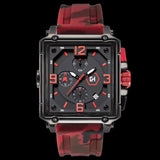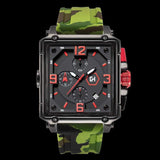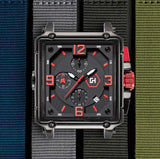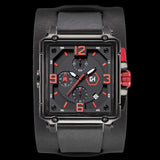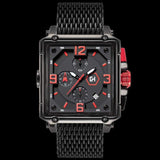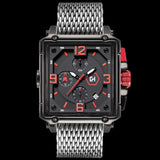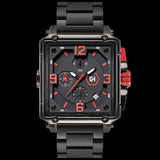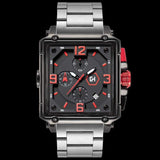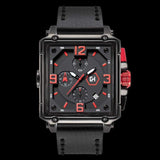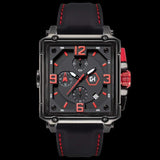 DESCRIPTION

DETAILS

SPECS

LIFETIME WARRANTY
The ground trembles and shakes as an enemy's armored vehicle approaches. The soldier's chest tightens as he holds his breath. It's not time! Don't let them see us. It's World War I and he is on the front lines. By glancing at the watch firmly strapped around his wrist, he knows it's nearly time to attack… nearly, but not yet. On the hour, his backup arrives and the upper hand is theirs.
Military use of the wristwatch moved timepieces from pockets to arms worldwide in the beginning of the 20th century during WWI. They were essential to synchronize military movement. When popularized, all models were round. It wasn't until one day in 1917 that the rectangular design was created by Louis Cartier-- His inspiration? The Renault Tank.
Even when we squint a little, we can't see the resemblance either, BUT we like the idea that a tank and a watch can be related. Creating a square watch became a mission! After all, an armored artillery vehicle is as tough as gears can get. It had to be done. Unlike most square watches that don't look like a tank or act like a tank, ours can withstand a lot of punishment (and it looks damn good too).
 When you get ready to battle your day, don't forget to wear a timepiece that you can rely on.
DIAL DIAMETER
BAND WIDTH
BAND MATERIAL
CASE MATERIAL
GLASS
WATER RESISTANT
ENGINE
MOVEMENT
DIAL DETAILS
FEATURES
24-HOUR - 2ND MOVEMENT

TIME, DATE & DAY

SECONDS / MINUTES / HOURS STOPWATCH
OUR PROMISE

It is our mission to make best quality watches possible. We want our entire Gear'd Head community to be able to share that mutual appreciation for high quality and reasonably priced products.

That is why every single Gear'd Hardware product comes with a no-hassle, no-rhetoric lifetime warranty guarantee.
When you spend your hard-earned money on our products, you can do so with confidence knowing that your gear will always be fully-functional and defect-free. You can also rest assured that we will do everything in our power to keep your product in use and out of a landfill.

THE GUARANTEE
If any part of your Gear'd Hardware product becomes non-functioning or defective, we will repair or replace it with a fully-functioning item in the same or better condition.

Note the "non-functioning or defective" part. This means that the warranty does not cover cosmetic wear that does not affect the safety or function of your product. In our opinion, a little scratch or knick here and there is nothing more than bragging rights that you've been having some fun with your gear. If something breaks due to manufacturer defect under normal use, don't worry one bit. We're behind you all the way.
Well I was wrong.....
Thought my favorites were the big bold faces like the Juggernaut, Stealth, or Rambo....don't get me wrong the McQueen is a great color
combo (OK, I have a few Gear'd watches)....but the Tank quickly became my favorite!
Awesome Watch
Love this watch. Rugged and tough yet stylish and great looking. Love the carbon fiber band.
Great watch
Solid watch . Looks great
Great Quality!
Great buying experience! Very happy with the quality and customer service!
Rich, thank you for your review!
Please tag us in your social posts. We can't wait to see your watch.
#TimeToGrind #GeardUP
Watch
Great watch from a fantastic company!
Mike, thank you for your review. We cannot wait to see your watch. #TimeToGrind #GeardUP