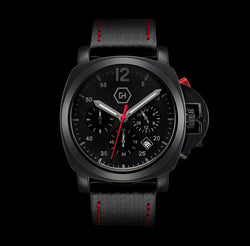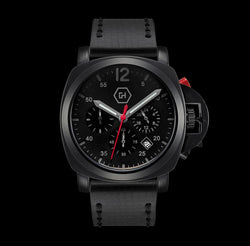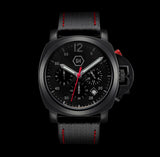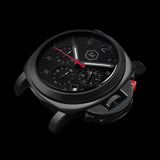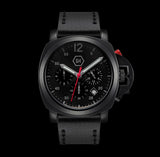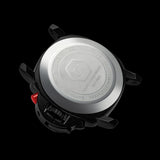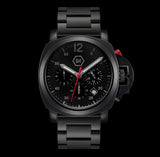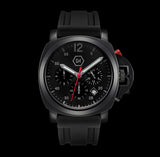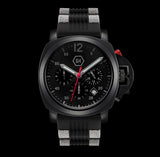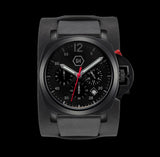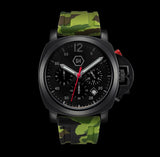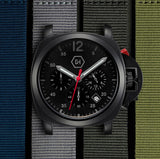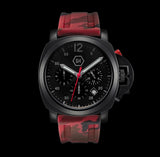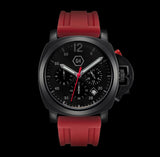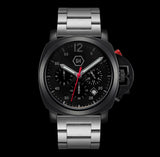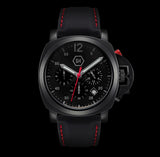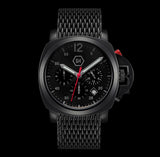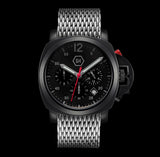 DESCRIPTION

DETAILS

SPECS

LIFETIME WARRANTY
When the night air is cool and the sky is clear, swing your leg over that sleek powerful body and let it roar… Life couldn't be more perfect than it is when you're on your motorcycle. The freedom of the open road lets you prowl the streets with speed and accuracy. Weaving from lane to lane, you chase down your destination. You've never felt more in control.
Wearing our Panther timepiece reminds you that you can conquer any challenge in your path. With a silky black finish, strong frame, and curved design, this is not your ordinary watch. Beneath that calm cool exterior is an untamed beast that beckons you back to the roads. Are you ready to answer the call of the wild?
DIAL DIAMETER
BAND WIDTH
BAND MATERIAL
CASE MATERIAL
GLASS
WATER RESISTANT
ENGINE
MOVEMENT
DIAL DETAILS
FEATURES
24-HOUR - 2ND MOVEMENT

TIME, DATE & DAY

SECONDS / MINUTES / HOURS STOPWATCH
OUR PROMISE

It is our mission to make best quality watches possible. We want our entire Gear'd Head community to be able to share that mutual appreciation for high quality and reasonably priced products.

That is why every single Gear'd Hardware product comes with a no-hassle, no-rhetoric lifetime warranty guarantee.
When you spend your hard-earned money on our products, you can do so with confidence knowing that your gear will always be fully-functional and defect-free. You can also rest assured that we will do everything in our power to keep your product in use and out of a landfill.

THE GUARANTEE
If any part of your Gear'd Hardware product becomes non-functioning or defective, we will repair or replace it with a fully-functioning item in the same or better condition.

Note the "non-functioning or defective" part. This means that the warranty does not cover cosmetic wear that does not affect the safety or function of your product. In our opinion, a little scratch or knick here and there is nothing more than bragging rights that you've been having some fun with your gear. If something breaks due to manufacturer defect under normal use, don't worry one bit. We're behind you all the way.
Well I was wrong.....
Thought my favorites were the big bold faces like the Juggernaut, Stealth, or Rambo....don't get me wrong the McQueen is a great color
combo (OK, I have a few Gear'd watches)....but the Tank quickly became my favorite!
Awesome Watch
Love this watch. Rugged and tough yet stylish and great looking. Love the carbon fiber band.
Great watch
Solid watch . Looks great
Great Quality!
Great buying experience! Very happy with the quality and customer service!
Rich, thank you for your review!
Please tag us in your social posts. We can't wait to see your watch.
#TimeToGrind #GeardUP
Watch
Great watch from a fantastic company!
Mike, thank you for your review. We cannot wait to see your watch. #TimeToGrind #GeardUP