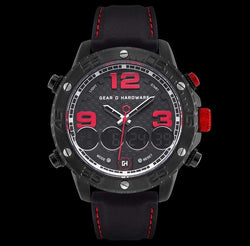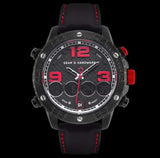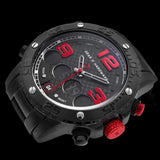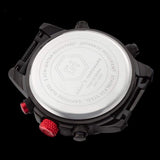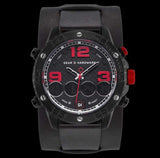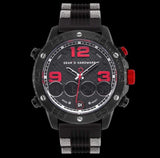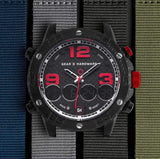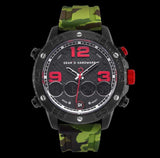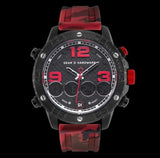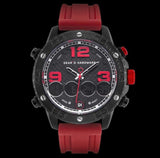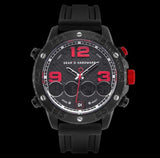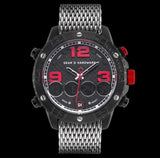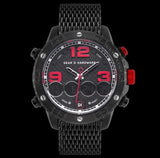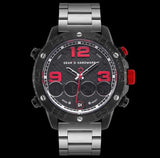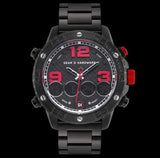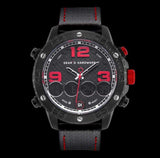 DESCRIPTION

DETAILS

SPECS

LIFETIME WARRANTY
RAMBO IS RETIRING - SUPPLIES ARE LIMITED

Why are we retiring Rambo and cutting the price?
Customers wanted brighter faces and smaller numbers on their men's watches. We listened.
Rambo is one of our oldest designs, it's retired, and we need your help to clear them out of our warehouses in Florida and California. After all, it will make room for new mens watch styles!
Rambo is a durable mens watch with an iron-clad lifetime warranty. It was a popular timepiece among construction workers, hunters, preppers, and survivalists. But it's been outshined by our new watch collection.
So if you want a watch with both analog and digital functions protected by strong scratch-resistant glass and a solid stainless steel case, this is your chance to buy one for less than half the price!
 Grab yours before they're gone forever...
RAMBO'S STORY
A deserted highway, a full tank of gas, and the top is down. Rubber treads sweetly kiss the asphalt as the engine purrs. Shift up again and again until Boom-- Overdrive. Pulling forward like a rocket, cutting through the air, the Viper flies at record speeds down the interstate. There is nothing like harnessing that kind of raw power. 
Leave the limits for minivans and station wagons. Gear'd Hardware knows no bounds. This timepiece was inspired by a ride that held a place in Kris Cram's garage and heart, the 2001 Dodge Viper. Sure to please any sports car enthusiast, our design takes its cues from the dials of the dashboard. Push the pedal to the metal and shift your day into gear with Rambo at the ready.
DIAL DIAMETER
BAND WIDTH
BAND MATERIAL
CASE MATERIAL
GLASS
WATER RESISTANT
ENGINE
MOVEMENT
DIAL DETAILS
FEATURES
ULTRA-BRIGHT LCD BACKLIGHT

12 & 24 HOUR SYSTEM

TIME DATE & DAY
ALARM

STOPWATCH

STEALTH MODE
OUR PROMISE

It is our mission to make best quality watches possible. We want our entire Gear'd Head community to be able to share that mutual appreciation for high quality and reasonably priced products.

That is why every single Gear'd Hardware product comes with a no-hassle, no-rhetoric lifetime warranty guarantee.
When you spend your hard-earned money on our products, you can do so with confidence knowing that your gear will always be fully-functional and defect-free. You can also rest assured that we will do everything in our power to keep your product in use and out of a landfill.

THE GUARANTEE
If any part of your Gear'd Hardware product becomes non-functioning or defective, we will repair or replace it with a fully-functioning item in the same or better condition.

Note the "non-functioning or defective" part. This means that the warranty does not cover cosmetic wear that does not affect the safety or function of your product. In our opinion, a little scratch or knick here and there is nothing more than bragging rights that you've been having some fun with your gear. If something breaks due to manufacturer defect under normal use, don't worry one bit. We're behind you all the way.
Absolutely love the watches and the company
Amazing
This is the watch that attracted me to this company in the first place, though I eneded up getting one of their other watches first. Finally I pulled the trigger and picked up the Rambo. It's light weight for one of the company's products, but just as sturdy as any of them. Looks great, feels/wears great! My only problem is that I didn't buy it sooner. Great jobs geardhardware, live yalls products.
Rambo
Absolutely love this watch. I am definitely going to pick up another watch from Gear'd Hardware!!! My wife even complemented me on my new watch!
Superb
Like I said xpected! Excellence!! Absolutely love the watch and as usual it looks Bad Ass while Djing !!
Eddie, thank you for the 5-star review. We appreciate it!!
#TimeToGrind #GeardUP